Monastery Renovation – "It's done!"
1. August 2023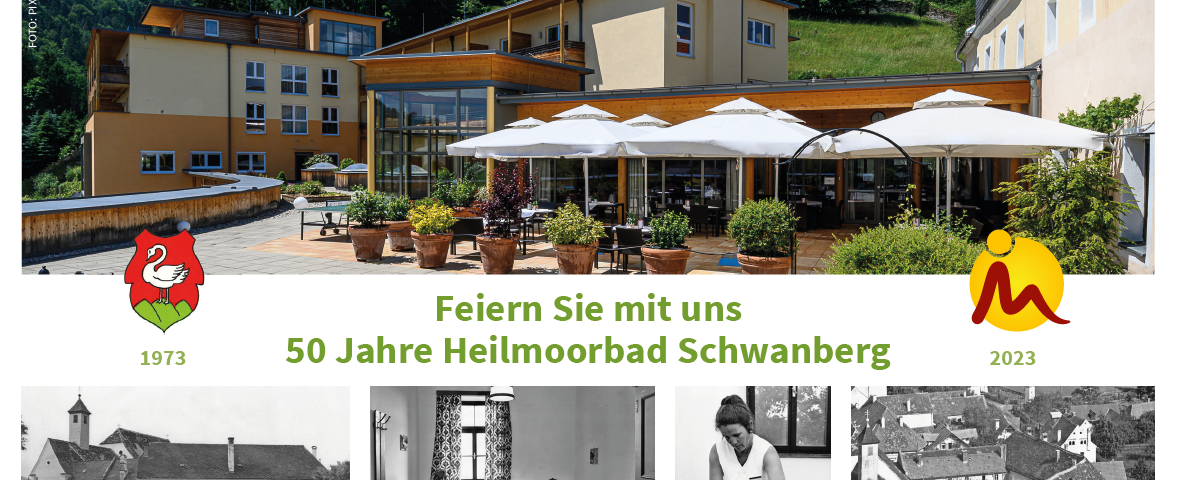 On June 16, 1973, the moor bath in the Schwanberg monastery was opened to the people seeking healing. Where monks once sought the salvation of the world in pious prayers for over 250 years, power from the high moor of Garanas should now bring salvation to the suffering, and hopefully for another 250 years!
Since it is well known that anniversaries should be celebrated as they come, this was done on a grand scale for three days! Already on Friday evening, the numerous anniversary hotel guests could look forward to a brilliant gala dinner, accompanied by the festively noble sounds of the harp and powerful singing.
The following day, the spa and health facility was available to numerous regional visitors at an open day for a look behind the scenes of the moor and therapy world. Fortunately, more visitors than expected took advantage of this opportunity, which made the house burst at the seams at times and literally exceeded the capacity of the guided tours.
With numerous invited guests of honor, the healthy fifties were duly celebrated on the terrace in imperially stable weather. Dir. Gernot Fraydl Jr. was proud of the development of the region's leading healthcare company.The former testimonial of the house, Harry Prünster, moderated the event and ensured a good mood among the guests with eloquent jokes. These included, among others, Member of the National Council Josef "Beppo" Muchitsch, Member of the State Parliament Helga Kügerl, Member of the State Parliament Maria Skazel, District Governor Mag. Doris Bund and the Mayor of the market town of Bad Schwanberg Mag. Karlheinz Schuster.
The highlight of the three-day celebrations and thus the worthy conclusion was the Holy Mass on Sunday in the in-house monastery church with Bishop Dr. Wilhelm Krautwaschl and pastor Mag. Anton Lierzer. The Bad Schwanberg music team provided the vocal and musical accompaniment to the fair. The Marktmusikkapelle Bad Schwanberg prepared a worthy reception for Bishop Krautwaschl on the premises of the spa, accompanied the arrival and departure and then ensured a good atmosphere in the monastery garden. The anniversary brunch with jazz music continued well into the afternoon.